We are committed to a systematic, bottom-up approach to decarbonize our portfolio.
Canada reports some of the highest carbon emissions and energy use per capita. In Canada, buildings are responsible for 17% of the country's carbon emissions, an amount that can exceed 50% in urban centres like Toronto. To face this challenge, we make prudent investment decisions that lead to significant reductions in carbon emissions across our properties, creating value for our stakeholders.
By implementing this approach we aim to identify opportunities in our existing portfolio, enabling us to expand our decarbonization initiatives from a regional and asset class-centered approach to our total assets under management.
At KingSett, we define a decarbonization strategy as a property-level roadmap for management teams to achieve carbon reductions of over 50% from baseline.
The implementation of our decarbonization strategies is consistent across asset classes and includes fuel switching, electrification, deep energy retrofits and increased tenant awareness and communication. Once a property's decarbonization plan has been completed, carbon offsets are purchased for the residual emissions.
A property must first meet three key requirements before a decarbonization strategy can be executed:
The asset type must be able to support the capital cost of decarbonization
The local electrical grid must have a small carbon footprint to support electrification
The property's major systems must be at or near end-of-life (to avoid costly retrofits, write-offs and missed opportunities)
To deliver on our decarbonization commitment, we are assessing each property's current energy use makeup and capital budget plans, setting targets and developing strategies to decarbonize operations.
To manage the volume of data and help model scenarios, we created a performance assessment tool to streamline and formalize our approach. The tool leverages over 100,000 data points to model the capital and operational costs, utility performance, carbon emissions, and amortization of capital from baseline to 2035.
This has enabled us to make strategic investments, capture immediate opportunities to significantly cut carbon emissions, make our buildings more resilient, stabilize or reduce operating costs and educate the market on what is possible through the decarbonization of buildings.
KingSett's Decarbonization Strategy
Carbon Emission Reductions
It is critical to understand the sources and impacts of carbon emissions in commercial real estate.
Key Impacts on Carbon Emissions

Doing so enables us to establish and execute our decarbonization strategies across the Portfolio. There are many factors that can help or hinder a portfolio's ability to successfully decarbonize. While electrical grid emissions are outside a building owner's control, operational improvements, impacts of new developments and the purchase of offsets and RECs can all be used to significantly reduce carbon emissions and meet decarbonization targets.
Scotia Plaza, 100 Yonge, Toronto, ON
Scotia Plaza's 100 Yonge, a 250k sf class 'A' office building in downtown Toronto, has achieved the prestigious Zero Carbon Building – Performance Standard. This marks a major milestone in our decarbonization strategy and supports our goal of reducing carbon emissions by 35% across our CREIF portfolio by 2027.
After conducting detailed design studies, a collaborative project team executed the building's decarbonization strategy which included:
Replacing end-of-life boilers and chillers
Redesigning the HVAC system
Replacing the existing heating plant with air source heat pumps
Upgrading air handlers with heat recovery, new coils, humidification and controls
Upgrading water risers and installing a new electrical feed to relocate the cooling plant to the penthouse

of carbon emissions per year

equivalent to removing 118 vehicles from the road per year
These reductions exceed the Carbon Risk Real Estate Monitor (CRREM) guidelines for Canadian office building emissions, and are is aligned with the goals set out in the Paris Agreement and the Science Based Targets Initiative (SBTi).
Opened in 1929, the iconic Royal York Hotel is located in the heart of Toronto. The building is comprised of over 1,300 rooms and includes a variety of food and beverage options, including the newly renovated Clockwork Bar, Reign Restaurant and the Library Bar.
At its core, the decarbonization strategy focuses on:
Converting heating and domestic hot water from steam to heat pumps
Converting cooling from electrical chillers to Deep Lake Water Cooling
Additional measures to further decarbonize the hotel and boost resilience are focused on:
Replacing and up-sizing the emergency generators
Upgrading the building automation system
Replacing the exhaust system and supply fans
By decarbonizing, the hotel will achieve reductions of over 85% in carbon emissions and 66% in energy consumption.
In 2022, we partnered with the Canadian Infrastructure Bank through their Building Retrofit Initiative to help make this decarbonization strategy a reality. The loan will be secured in early 2023 and will put the hotel on an accelerated path to achieve Zero Carbon Building – Performance Standard certification by the end of the year.




Climate Change and Resilience
We are committed to improving the resilience of our assets brought on by physical and transition climate-related risks.
As large unmovable structures, commercial real estate has one of the highest levels of exposure to climate change risk and is one of the largest opportunities for significant positive impact on our planet.
At KingSett, we actively manage the physical and transition risks and opportunities related to climate change across our assets to increase their long-term value and resilience.
This is done through:
Extensive stakeholder engagement
Adoption of net-zero carbon targets and standards
Investments to improve physical and transition resilience
Assessment of alternative low-carbon and reliable energy sources to displace energy taken from the grid
Climate resilience is the ability to predict and respond to shocks and stressors related to climate change.
We assess our portfolios and assets to better understand the level of risk exposure. This enables property teams to implement mitigation measures and business continuity plans to ensure risks are reduced and that normal operations can be resumed swiftly after an event.
We track our energy and water use, waste generation and corresponding carbon emissions to improve our operational efficiency and reduce negative environmental impacts. This helps enhance long-term value for our partners, tenants and communities.
Normalized Energy Intensity1,2


eGWh of energy consumed IN 2022
(4% increase VS 2021)

Reduction target vs 2019
(by 2024)
In 2022, we saw a small increase in energy use in the Portfolio. This was consistent across all asset classes, with the largest increases seen across the office portfolio. These increases were expected as Canada saw the easing of lockdowns and increases in occupancy and visitors in our commercial properties.
By executing our decarbonization strategy we will significantly reduce energy consumption and carbon emissions across the portfolio.
Carbon Emissions Intensity3,4


tCO2e emitted in 2022
(8% increase vs 2021)

decrease in emissions by 2027 vs 2019
Similar to energy use in 2022, carbon emissions increased across the portfolio as we moved out of lockdown and saw higher occupancy and visitors across the asset classes.
Despite the lifting of lockdowns, we have managed to keep carbon emissions significantly below 2019 levels. As we continue to execute our decarbonization strategy, we expect to see our portfolio carbon emissions decrease slowly in the short term (2 years) and more rapidly in the medium term (3-5 years) as more properties execute their strategies. We are currently on track to reduce carbon emissions by 35% by 2027 and have adopted science-based targets to reduce emissions by 67% by 2035.
Normalized Water Intensity5,6


m3 of water consumed in 2022
(8% increase vs 2021)
Despite water use normally being highly correlated to building occupancy, we saw continued reduction in use in 2022 when normalized, despite easing of lockdowns and people returns to the office and retail spaces.
Absolute waster consumption increased year-over-year but remains 22% lower than 2019 levels.
When normalized, water use only increased in our retail portfolio, which accounted for 11% of total normalized water use in 2022. This was expected as more retailers and food and beverage providers began to resume operations in the second half of the year.
Water remains an important focus for our property teams, however with the lifting of lockdowns and changes in the way we interact with our spaces, more data is needed to determine the future of water use and setting meaningful targets.
Normalized Waste Intensity


tonnes of waste and recycling generated in 2022
(37% increase vs 2021)

Waste generation, which still remains highly correlated to occupancy, saw a significant increase in 2022. This was in line with expectations as more waste is created when people return to the office and visit retail centres.
Similar to water, due to the significant changes the pandemic has imparted, more data and time is needed to properly assess and set meaningful targets on generation. The pandemic, and new remote working policies, have greatly shifted people's consumption habits and therefore waste creation.
Waste is the most difficult utility to control and reduce as it is highly dependent on the vendors and suppliers that properties must engage with, government regulation and both public and private waste management bodies who receive, sort and dispose of all waste streams. There is also significant lack of waste data availability in multi-residential properties, impacting improvement efforts. Waste reduction also relies on individual occupants to make key decisions when faced with the disposal of used items. We continue to work with all our stakeholders to make progress towards a circular economy.
Building certifications offer a trustworthy method of evaluating and expressing the environmental performance and effectiveness of buildings by using established and credible frameworks recognized by the market.
KingSett is committed to adopting third-party building certifications to validate our properties' ESG performance and show tenants the tangible positive impacts they provide. We believe that sustainability and profitability can coexist, and by investing in sustainable design, operation and building practices, we can create long-term value for our stakeholders and the communities where we operate.
Portfolio Building Certifications by Gross Asset Value (GAV)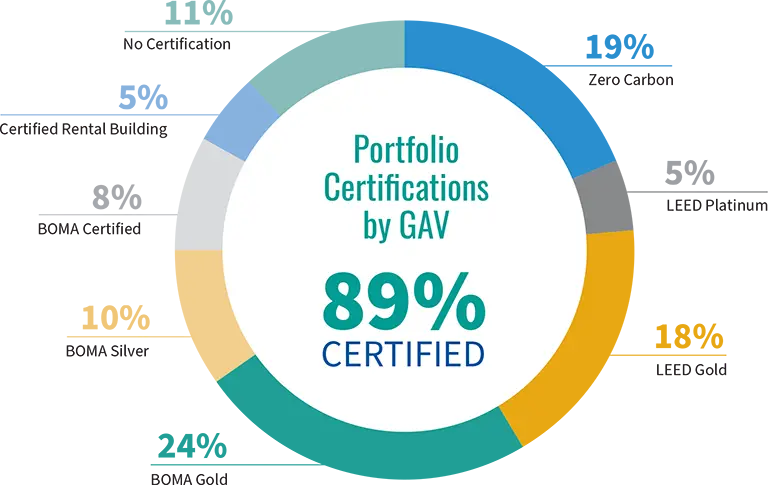 Of properties by GAV hold two or more building certifications
by GAV achieved Zero Carbon Building – Performance Standard

of office properties by GAV are LEED O+M gold or higher
Atrium is a 1.1M sf class 'A' office and retail complex located in the heart of Toronto at Bay and Dundas. As a result of winning the 2022 KingSett Innovation Award and pending a detailed study, Atrium will be installing an HVAC optimization software which will integrate directly into the building automation system. This system uses the building's thermodynamic properties, real time data and a 5-day weather forecast to automatically regulate the supply water temperature set-points in the building. Once implemented, the system will provide annual energy savings of approximately 10% and will contribute to the facility's carbon reduction goals.
We are dedicated to incorporating sustainable practices into our real estate development and redevelopment projects to benefit both communities and the environment.
Developing new buildings in a sustainable, healthy, and resource-efficient manner is crucial for their impact on the environment and surrounding communities.
Our Sustainable Development Policy and Guide provide clear guidance for each development to maximize the benefits of technology, location, and surrounding community, beginning with acquisition and continuing through development to initial occupancy, and operation. We are committed to creating comfortable, efficient, and healthy buildings that meet or surpass the Zero Carbon Building Standard, not only because it is economically advantageous, but also because it is the responsible choice for our planet and communities.
To ensure that these commitments are met, we adhere to building standards with stringent performance guidelines and prioritizes user experience when making development decisions.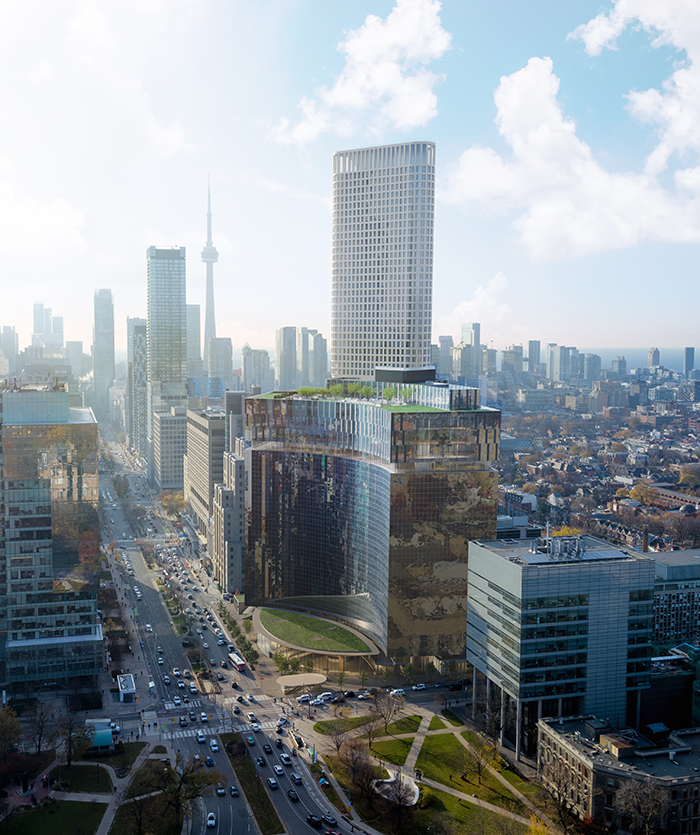 Each development is assessed against the following building standards: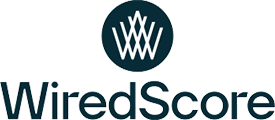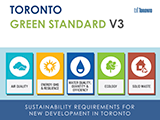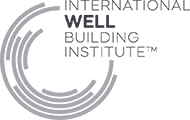 ESG Benefits of Intensification in Development
Large scale real estate developments require significant natural resources and energy to build. These impacts can be compounded if the location of the development is on a greenfield site. KingSett remains focused developing real estate through intensification and focusing on brownfield development sites. This has significant benefits, including:
Recovering desirable locations and allowing for smarter growth through urban intensification
Removing or renovating abandoned or derelict buildings and remediating sites that would otherwise have no use
Retrofitting buildings in areas where better use can be made of existing municipal infrastructure and services
Reducing urban sprawl
Preserving greenfield land

of Developments are Site Intensifications
Located in the heart of Kitchener's Innovation District, GloveBox is a brownfield redevelopment in one of KingSett's Growth Funds. This project, which has achieved substantial completion and initial occupancy, incorporates a brick and beam heritage building within the newly constructed office tower. Environmental considerations when developing included geothermally heated sidewalks and private interior roads and a reduced parking footprint through a parking stall sharing program with a neighbouring condo. The building has received a WiredScore Silver certification and has submitted for LEED BD+C Gold certification.