Employee Engagement and Well-Being
As we continue to grow, we strive to ensure all employees feel engaged and see the company as a great place to work.
At KingSett, our employees are our most valuable asset, and our values are the foundation of the business which drives relationship focused client services, leadership, teamwork and investment expertise. We believe that engaged employees contribute to higher productivity, increased commitment, and stronger dedication to the company's values. The company aims to provide a supportive, compassionate workplace that empowers its employees to lead happy, healthy lives, both in and out of the office.
In 2022, KingSett conducted an Employee Engagement Survey. While the results of the survey were strong, there is always room for improvement. Using survey feedback, management will continue to implement programs that focus on:
Meeting the diverse needs of all employees
Enhancing employee well-being
Ensuring employees feel valued for the contributions they make to the company
Bringing employees together for more informal events and activities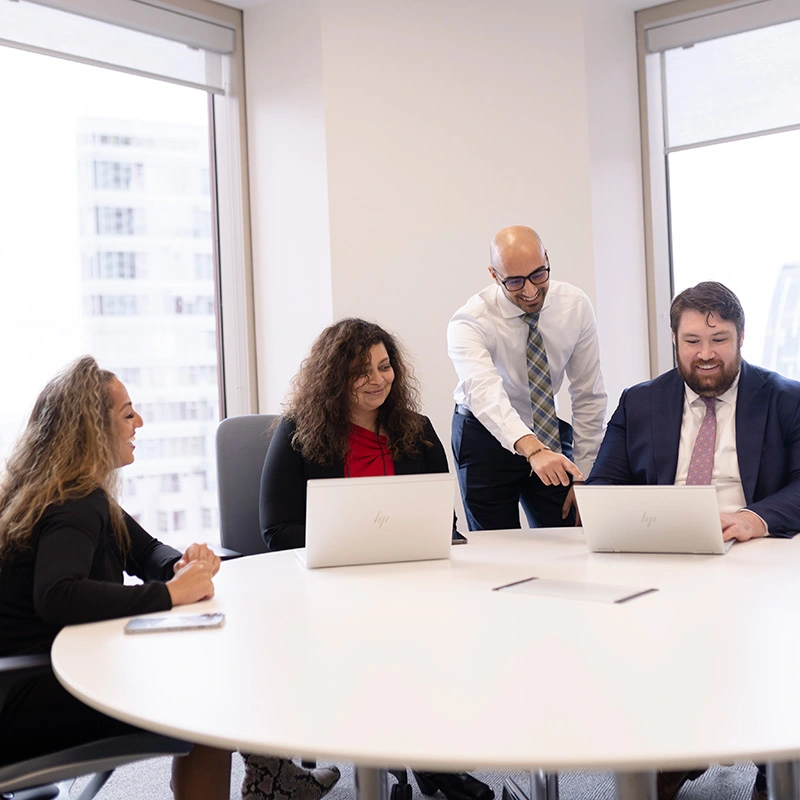 In May 2022, KingSett and our partners came together to participate in the MS Million Dollar Tower Challenge and raise money for multiple sclerosis (MS) research in Canada. Canada has one of the world's highest rates of MS, with a national average of 12 people diagnosed with this progressive neurodegenerative disease daily. We hit our original goal of $1 million within the first week and raised $5 million by the end of the campaign.
KingSett sponsored the event as part of the Company's 20th anniversary celebrations and gave all employees the opportunity to participate. Over the course of two days, 140 participants took the leap for MS by rappelling 20 storeys from the rooftop of 700 University Avenue in Toronto. Jon Love, KingSett's CEO, proudly kicked off the event by being the first to take the leap for MS.

rappelled in the MS Tower Challenge
Equity, Diversity and Inclusion
We believe equity and diversity are among our greatest strengths.
By incorporating Equity, Diversity and Inclusion (EDI) best practices, KingSett is able to attract, engage and retain top talent, improve company culture and increase creativity, productivity and business performance. Conducting an annual EDI survey allows us to receive ongoing feedback from all employees and ensures we have robust platforms in place to hear from the voices that matter most.
We conducted a 2022 EDI survey to continue monitoring our year over year trends in our employee diversity metrics and the overall inclusivity of our workforce. Through this analysis, we can target key areas and create purposeful initiatives that will have a positive impact on our employees.
Developing an atmosphere where dialogue is both safe and encouraged and where we can better learn about the culture, experience and values of our employees
Establishing a training program that helps employees better understand the value of EDI and the harmful nature of racism, discrimination and exclusion
Nurturing a corporate culture that utilizes constructive, inclusive language and actively seeks to mitigate bias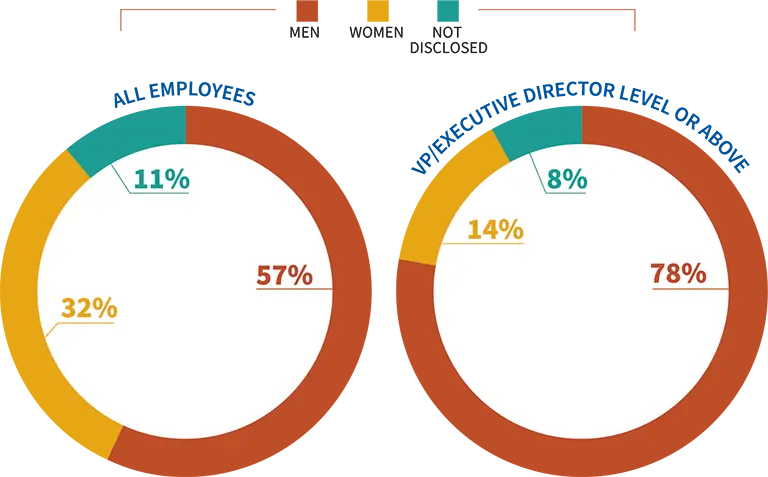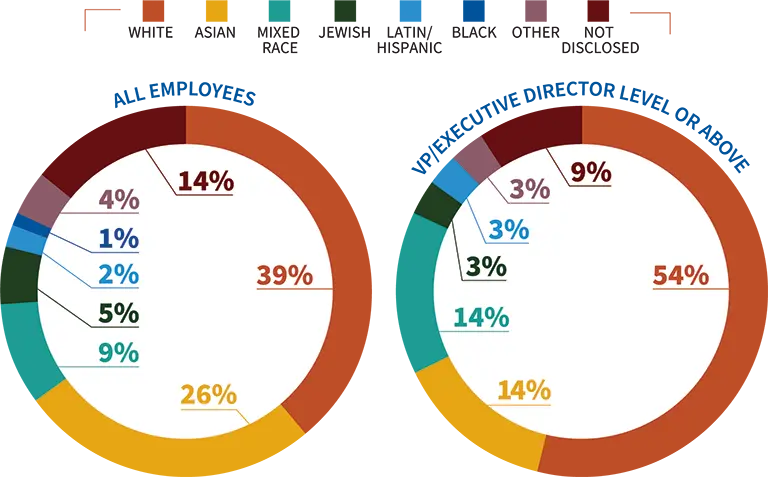 We acknowledge there is more to be done to improve our diversity practices and make KingSett a more inclusive workplace. We are transparent when sharing the results of our survey and have committed to an action plan that will focus on the recruitment and hiring process, promotions and career development and mentorship for all levels and positions within the company. We will continue to conduct an annual EDI survey to track our progress against set targets and improve program development to suit the needs of all employees.
Tenant Engagement and Well-Being
Ensuring our tenants are actively and effectively engaged is critical to executing a successful ESG strategy.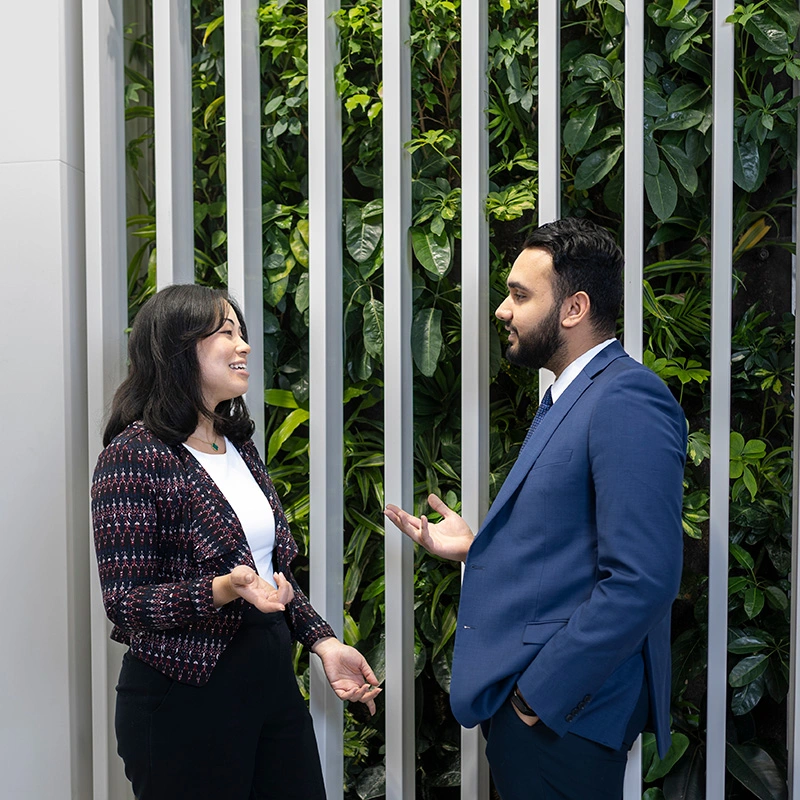 We are committed to providing comfortable, safe and sustainable living and working spaces that meet our tenant's needs. Understanding the concerns, needs and goals of our tenants helps us create successful and customized property-level programs.
In 2022, we conducted a Tenant Satisfaction Survey to help us better understand and meet our tenants' needs. We surveyed tenants across all asset classes and were able to gain valuable insights from the results, despite having lower response rates, particularly for our office assets.
Surveys are not the only way we engage with our tenants and solicit feedback. Our tenant engagement program also utilizes our property management teams and other engagement tools such as:
Tenant communication apps
Tenant events
Enhanced safety protocols
Social media/online platforms
Tenant engagement meetings
Tenant feedback sessions

Overall tenant satisfaction improved to

of surveyed properties received Kingsley Tenant Satisfaction Excellence Award
700 University Pinnacle Award for Customer Service
In 2022, 700 University achieved the Pinnacle Award for Customer Service from BOMA Toronto and BOMA Canada. This award recognizes properties that have gone above and beyond standard practices to provide and promote service excellence by focusing on consistency, ingenuity, integrity and a dedicated pursuit of excellence. 700 University and Triovest's property management team have achieved exceptional environmental performance and customer service, resulting in, numerous regional and national awards and one of the strongest tenant satisfaction scores in our portfolio.
Scotia Plaza FIFA World Cup Lounge
Soccer, better known as football to many, is the world's most popular sport. The 2022 FIFA World Cup recorded over 5.4 billion views, bringing hundreds of millions of people together to celebrate and cheer for their favourite teams. At Scotia Plaza, we wanted to use sport to help unite our tenants, occupants and visitors throughout the tournament by setting up a 24/7 viewing area. The attendance was incredible, garnering large audiences at any given time to catch a glimpse of a highlight or sit down for a full match of their favourite team.
We are driven to enhance the communities where we operate.
KingSett is committed to being a good corporate citizen and contributing to the communities where we live and do business through volunteerism, charitable events and local activities at our properties.
We enable our property teams to be active members of the communities they work in. By hosting events, providing public services not otherwise available and connecting with our communities, we create spaces people want to be in.
At the corporate level, our employees volunteer and participate in several industry associations that help create value for properties, communities and the wider real estate sector.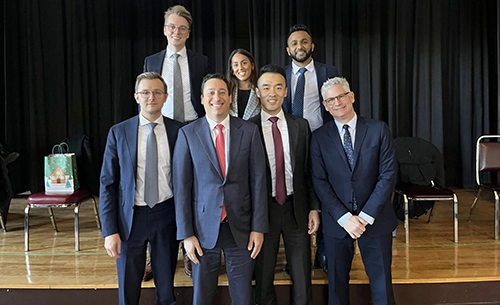 KingSett supported JA's World of Choices program through virtual and in-class sessions held in the Spring and Fall of 2022. 33 KingSett volunteers connected with 247 high school students across 9 high school classes to teach them about the different careers in the real estate industry and helped identify potential career paths suited to individual skills and strengths.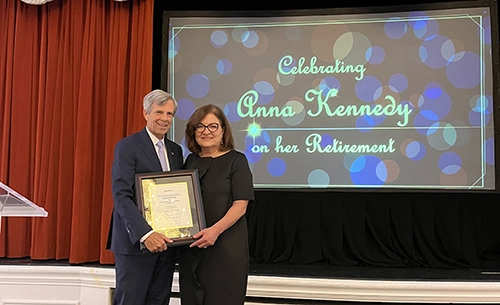 To honour KingSett's former Chief Operating Officer, Anna Kennedy, for her 11 years of service, the company established The Anna Kennedy Scholarship for Professional Accounting Excellence. This scholarship is for students entering the Graduate Diploma in Professional Accounting program at the Rotman School of Management and is awarded annually on the basis of academic merit.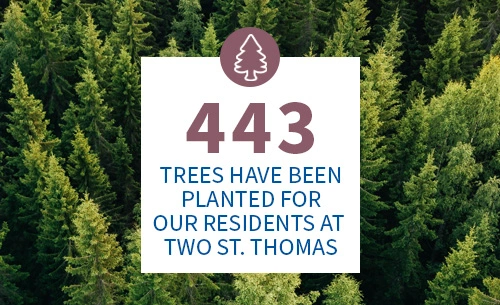 MyBGO Roots Tree Planting Program
TWO St. Thomas, a multi-residential building located in Toronto, has established a tree planting program for its residents. Every month, residents who are celebrating a move-in anniversary, receive an email to communicate how many trees were planted on their behalf and how those trees positively impact our planet. Each tree creates enough oxygen for two people, sequesters 2.3 Kg of CO2 from the atmosphere and contributes to approximately 90 years of animal habitat.
We aim to have a positive impact on Canada's affordable housing issues, produce exceptional communities and deliver scalable economics.
In 2020, we announced the launch of the KingSett Affordable Housing LP ("AH Fund"), formed by key institutional investors and CREIF. The goal of the AH Fund is to provide stable, risk weighted returns while delivering high quality, affordable housing for those most in need in Canada's rental markets.
In 2022, the AH Fund, in partnership with VIDA Living, closed on a major acquisition of 169 units across 8 low rise buildings located in central Winnipeg. The goal of this acquisition is to deliver socially responsible housing to the market by engaging residents and Building Ambassadors to become active participants in the building's maintenance and operation. Using a combination of creative solutions and VIDA's four pillars of safety and security, cleanliness, opportunity and community we aim to improve the social, economic and health outcomes for historically underserved groups.
VIDA Living updated and transformed its dull corridors and plain common areas to bright and beautiful spaces. This was done by installing new lighting and flooring tiles and painting each exterior suite door a bright and inviting colour. Residents participated by choosing the colour palette and working together to come up with unique names for suites. The initiative received overwhelmingly positive feedback and provided residents with a sense of pride in the community they helped create.
"There is a true sense of community and safety in my building and since I started living at VIDA, my social life has improved. Community BBQs, VIDA perks and the opportunity to earn rent credits are amazing."
—VIDA resident, Winnipeg