In 2022, KingSett achieved global leader recognition in the GRESB Real Estate Assessment for the second year in a row.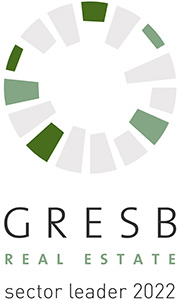 KingSett ranked first in North America and first globally, continuing its ESG leadership status in commercial real estate. KingSett uses third-party standards, such as GRESB, to demonstrate our ability to turn sustainability policies and goals into verifiable results.
KingSett is a proud participant in GRESB and has responded to the Real Estate Assessment since 2015. In 2022, we continued to lead the commercial real estate market and out-perform our previous achievements. We achieved a Five Star Rating for the fifth year in a row, were first in our peer group for the third year in a row and first globally within our peer group of non-listed core funds for the second year in a row. KingSett also achieved first in Canada and first across the Americas in the Developments Benchmark, leading all companies who participated in the benchmark in those regions.
Globally:

DIVERSIFIED
Office | Residential | Non-Listed | Core
In our Regional Sector:

DIVERSIFIED
Office | Residential | Americas
In our Peer Group
Office | Residential | Core
Principles for Responsible Investment Adoption
The Principles for Responsible Investment (PRI) is the most widely adopted ESG integration standard that enables asset owners to publicly demonstrate a commitment to responsible investment. In 2021, KingSett underwent the process of becoming a PRI Signatory by conducting in-depth interviews and completing a full review of relevant policies, procedures, manuals, guides and disclosures. The overall findings from the three modules we participated in demonstrate that we have strong ESG governance, reporting practices, diligence and operational excellence along with enthusiasm for the continued advancement of ESG. By implementing recommendations at both the company and asset-level, we have the opportunity to further improve our score before the first mandatory reporting period in 2024.
KingSett Engages Stakeholders in a Variety of Ways:
Our Management Committee and CREIF Advisory Board receive quarterly ESG updates that include Portfolio case studies and progress and highlights on sustainability issues and trends
Our talent managers initiate a variety of new and ongoing social and employee development programs throughout the year
Property and asset managers review asset-specific sustainability dashboards prior to and during budget planning
We survey our tenants and employees to help guide our efforts to increase satisfaction, communication and well-being
CREIF Investors and other stakeholders receive regular updates on progress towards achieving our targets
Social media posts highlight key corporate and asset achievements across all portfolios
We continuously engage within our government and industry, sharing best practices, new ideas and thought leadership
Our property teams engage with asset managers, tenants and communities in their day-to-day functions and hold tenant and community events throughout the year
Our annual ESG Report provides an in-depth review on ESG throughout the organization and holds us accountable for the commitments we make
We participate in a number of industry and community associations as members and board of directors to share best practices, ideas and guidance
Adopting ESG Practices in Lending
KingSett is seeking to developing responsible investing best practices in our fixed income and lending business. One way to do so is through a thematic investing approach. Thematic investing addresses a specific environmental or social problem, involves actively targeting companies or projects that address these issues and focuses on predicting long-term trends. This approach enables investors to target specific initiatives that can change the industry's approach.
KingSett's Mortgage Investments Strategy aims to include holistic ESG integration throughout the investment process and is working to align with the PRI approach to responsible investment in private debt.
Stakeholder Risk Assessment Reviews
In 2021, KingSett's Management Committee identified key relationships across the majority of our AUM. The objective was to engage these stakeholders to ensure the services being provided met KingSett's privacy, security, operational, business continuity/disaster recovery, sustainability and employment standards. We also wanted to confirm that adequate internal controls were in place for safeguarding KingSett's AUM and ensure that risk associated with our third-party providers were assessed on a periodic basis.
KingSett focused on its property management companies and received clear feedback that our property managers were meeting or exceeding our standards across the AUM. The program is expanding in 2022 to focus on our key development stakeholders. Each year a new stakeholder group will be identified for surveys and interviews to ensure alignment with our standards and the program will reset every five years.
The ESG Committee is chaired by our Chief Legal Officer and ESG Lead, covers all aspects of our core business functions and has representatives from a broad cross-section of the organization.