Our new ESG goals align with our decarbonization objectives, create positive impact in our communities and maintain our ESG leadership position.
| Climate and Environment | Target Year | Target Objective |
| --- | --- | --- |
| Complete formal submission to SBTi | 2024 | Y/N |
| Improve CREIF energy performance | 2024 | 9% |
| Improve CREIF carbon performance | 2024 | 9% |
| Execute decarbonization strategy | 2027 | 35% |
| Increase CREIF's third-party building certifications | 2024 | 90% |
| Social Impact | Target Year | Target Objective |
| --- | --- | --- |
| Maintain or improve employee engagement score | 2025 | 90% |
| Maintain or improve inclusion score | 2025 | 70% |
| Maintain or improve tenant satisfaction score | 2025 | 77% |
| Operational Excellence | Target Year | Target Objective |
| --- | --- | --- |
| Maintain GRESB 5 Stars | Annually | Y/N |
| Submit first report to the Principles of Responsible Investment | 2023 | Y/N |
| Publish a Responsible Investing Policy | 2022 | Y/N |
| Conduct climate risk assessments in CREIF | 2023 | Y/N |
| Conduct corporate-wide governance review | 2023 | Y/N |
Climate and Environment
Track and consolidate Growth Fund environmental performance data for 80% of assets by 2023
Execute property-level decarbonization strategies for properties in Phase 1
Identify new decarbonization opportunities for multi-residential, retail and industrial properties
Secure Canadian Infrastructure Bank financing to execute our decarbonization strategy for CREIF
Submit all assets under management to the Science Based Targets Initiative for approval
100% of developments designed to achieve a net-zero carbon balance
Social Impact
Secure CMHC financing and begin construction on Valhalla in the Affordable Housing Fund
Close on acquisition of 220 affordable housing units
Expand the number of Social Committee events run throughout the year
Improve flex work by introducing Work From Anywhere Fridays
Roll out mental health app to all employees for stress reduction
Monitor the uptake and usage of tenant engagement apps
Continue to roll out valuable tenant experiences and events across our properties
Create volunteer opportunities for employees to engage with our communities
Operational Excellence
Implement feedback from first PRI submission to improve ESG ranking in Fixed Income
Align with the Net Zero Asset Managers initiative
Conduct third-party corporate governance review
Sustainable Development Goals
Our ESG Strategy positions us to make significant contributions to the UN Sustainable Development Goals (SDGs) most relevant to our business.
Doing so gives us the opportunity to positively impact the broader environments and communities in which we do business and enhance and strengthen our impact wherever possible.
Goals
Our Commitments
2022 Results
KingSett is committed to reducing energy use across our assets and helping the industry develop cleaner sources of energy

Investigate opportunities for direct investment in renewable energy
Enhance energy efficiency through deep retrofits

Energy performance (271 GWh)
1,761 Carbon Offsets retired
6.6 GWh of RECs purchased

KingSett strives for equity for all, to make our society and business more successful and works diligently to create a safe and inclusive workplace

Advance growth of KingSett's Affordable Housing Fund
Empower and promote greater diversity in our company and our industry

Partnered with VIDA Living to acquire 169 affordable housing units in Winnipeg
Conducted annual EDI survey

KingSett is committed to creating more sustainable, accessible and environmentally friendly buildings and communities for all

Develop and retrofit our properties to ensure inclusive and sustainable urbanization
Improve the quality of air within our assets and minimize emissions

Over 6.3M sf of space received Rick Hansen Foundation Accessibility Certification
Signed partnership with Poppy to monitor air quality

KingSett seeks to reduce the material consumption at our assets through the conscientious use of finite resources and minimizing waste generation

Purchase environmentally friendly products with cradle-to-cradle capabilities and lower embodied carbon
Reduce all forms of waste generated at our assets

Reviewed and implemented ESG requirements in procurement policies
4,095 tonnes of waste and recycling produced

KingSett is committed to reducing our carbon emissions and strengthening the resilience of our assets

Assess and enhance the resilience and adaptive capacity of our assets to climate-related hazards
Expand and execute decarbonization strategies across the business

Market-based carbon emissions: 33,367 tCO2e
1.8M sf decarbonized by end of 2022
In 2022, KingSett achieved global leader recognition in the GRESB Real Estate Assessment for the second year in a row.
KingSett ranked first across the Americas (North, South and Central) and first globally for the second year in a row for our CREIF portfolio. For the first time since responding to GRESB, KingSett ranked first globally in our peer group for the Developments Benchmark.
KingSett Capital is a proud participant in GRESB and has responded to the Assessment since 2015. In 2022, we continued to lead the commercial real estate market and out-perform our previous achievements. We achieved a Five Star Rating for the fifth year in a row, were first in our peer group for the third year in a row and first globally within our peer group of non-listed core funds for the second year in a row. KingSett also achieved first in Canada and first across the Americas in the Developments Benchmark, leading all companies who participated in the benchmark in those regions.
"We use third-party standards such as GRESB to demonstrate our ability to turn sustainability policies and goals into verifiable results and ensure we are focused on the material aspects of real estate that will drive value."
— Kit Milnes, Vice President, Sustainability and Resilience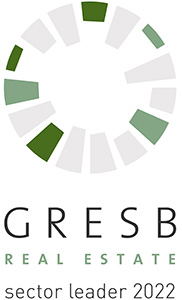 Globally:

DIVERSIFIED
Office | Residential | Non-Listed | Core
In our Regional Sector:

DIVERSIFIED
Office | Residential | Americas
In our Peer Group:

NORTH AMERICA | DIVERSIFIED
Office | Residential | Core Development
Globally
Other | Non-Listed | Core